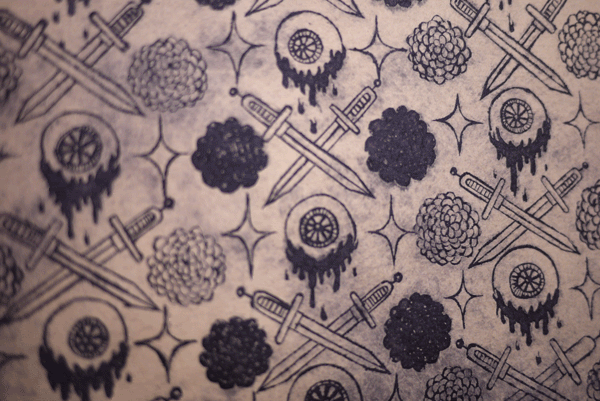 hello blogspot! i've been away for the past month which sort of explains why i haven't put in any effort to keep this corner of the internet alive. i'm back and incredibly jet lagged though! c: i'm really behind with posting work i completed near the end of the school year ( i can't even update my website because my dreamweaver trial expired hahaaaaaa ) so LOOK AT ALL THESE THINGS I MADE NEAR THE END OF THE SCHOOL YEAR!
intaglio
i feel like scans of prints never really do them any justice. this one's more impressive in person!
inspired by another Murakami quote.
❝
Closing your eyes isn't going to change anything. Nothing's going to disappear just because you can't see what's going on. In fact, things will be even worse the next time you open your eyes. That's the kind of world we live in, Mr Nakata. Keep your eyes wide open. Only a coward closes his eyes. Closing your eyes and plugging up your ears won't make time stand still.
(Haruki Murakami, Kafka on the Shore)
both plates before being dropped into acid. i really like how they look! need to look into scratchboard, i think. :U
drypoint, Franz from
❁ DEAD✦COSMIC✦SAINT ❁
i didn't realize how overboard i went with the details on this until i'd finished etching and started to do prints. whoops. during critique, my professor suggested pushing back the background by darkening it with watercolours. going to try doing that as soon as can get access to the studios again! also need to find a better way to make the stars. i used talc, but it got really clumpy, and my application was too messy.
i should also try a little harder to be more accurate with my paper cutting and registration next time. :U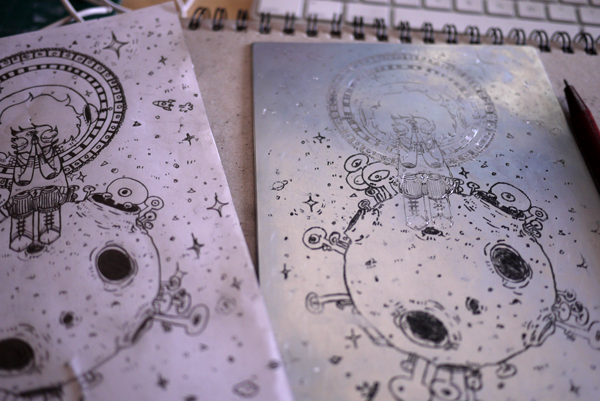 pastiche of the LV monogram
this one's not an etching, but i want to do something similar on a huge zinc plate next time!! >:I
other important things i did before i left:
☺ reread all of Slam Dunk
☺☺ got my hands on a tube of glow-in-the-dark paint to ensure that all my paintings from here on in are rave ready
&
☺☺☺ made a total of 5 packages for swaps with some really awesome people WHICH I WILL MAKE A POST ABOUT NEXT