✦✧✦ DASHINGEYEBALLHEARTTHROB-CHYAN ✦✧✦
he's very charming, isn't he?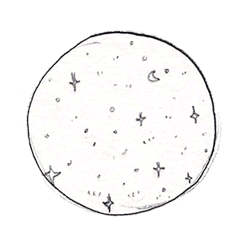 ❝
It's not a question of better or worse. The point is, not to resist the flow. You go up when you're supposed to go up and down when you're supposed to go down. When you're supposed to go up, find the highest tower and climb to the top.
When you're supposed to go down, find the deepest well and go down to the bottom.
When there's no flow, stay still. If you resist the flow, everything dries up. If everything dries up, the world is darkness.
( Haruki Murakami, The Wind-Up Bird Chronicle )
this isn't incredibly successful, but it's supposed to be Toru's view from the bottom of the well. i'll probably re-do it later.
I really loved the imagery of Toru viewing a half-moon when he looks up from the bottom of a well, as well as the complete darkness he experiences when May Kasahara covers the top of the well entirely.
playing with simpleanimationzz to make boring sketches (hopefully) a little more interesting. kind of relaxing!!